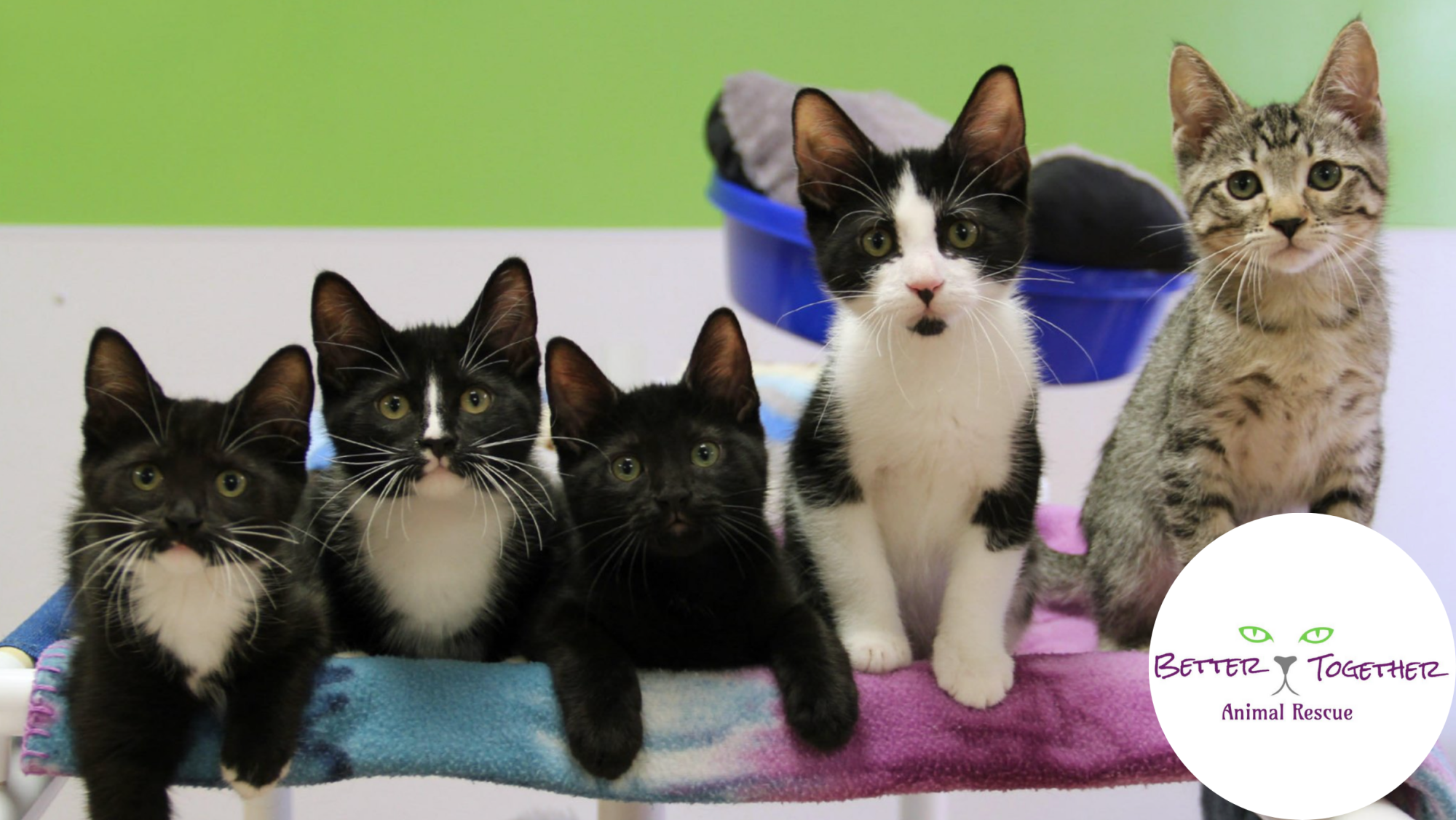 Better Together Animal Rescue
Many years ago, I walked through the doors of our local animal rescue to find us a furry friend to bring home.
What I didn't know at that moment, was how much this place would come to mean to me.
Not only was I met at the door with many furry babies that wanted some attention and a forever home, but I learned that those kitties are vetting you as much as you are them.
Here is what I mean by that, those kitties want to feel loved and know they are going to be taken care of... and after having adopted three babies from there, I can share with you that I did not pick one of them out, not one.

They CHOSE me.
I was also met by two lovely ladies with smiles on their faces (just because that is who they are) and also because they were so excited that they were going to possibly be able to save a kitty and give them a forever home.
Taylor and Peyton have the biggest hearts of anyone I know. They are full of love and the passion they have
lives through each one of the cats that are in their care. When you've worked with them, you become a part of the family.
Their passion that I spoke of, shines through in the creative ways that they come up with to keep the shelter running smoothly. It's also in making sure that each cat gets the care that they need. Sometimes that means many visits to the vet and nursing them back to health based on the conditions that they were found in. Other times, just routine care.
Did I mention that this is a no kill shelter? It is! These babies have a place where they are cared for until their perfect someone comes along and takes them home.
These young ladies have devoted their life to this shelter and their heart shines through in every event that they put on, every fundraiser that they create and with every time they get to say that one of their cats gets their Gotcha Day.
I will be forever proud to say that I hold a spot on the Board of Directors for this establishment. I feel so honored to have been considered and accepted to be a part of the family here at Better Together. This is a place that is making a difference and where two young women and their family share a piece of their heart every time the door opens.
I would also love to share that Taylor and Peyton were both put on the list of the top 100 Influential Women in our town. What an honor and an accomplishment. They each deserve it too!
Because of this, we've had people come from states away to adopt a pet from Better Together Animal Rescue.
Here are some of the ways that you can participate if you are interested:
Sponsor a cat – this helps provide care for the cat until it is adopted

Donation – every little bit helps

For my local friends ~

Donate your pop cans and bottles – by doing so you are providing for the food, litter, vaccines, chips, heat bills, cleaning supplies and so many more ways that help keep things running – all you need to do is leave them by the door, they've got the rest handled

The yearly golf tournament – you can play and you can donate to the silent auction

The Shoe Drive – Collected shoes are sent to third world countries and the shelter is paid by the pound for donating to this cause.

Easter Bunny & Santa Paws pictures – come have your picture taken with your pets and the Easter Bunny or Santa Clause.. this is a blast and you walk out of there with a beautiful photo

Click on the learn more here button and join the Facebook page and see what they have come up with today that brings fun to everyone who follows – They share the cutest pictures of the cats that just brighten your day!
THANK YOU for supporting the dreams of these two lovely ladies and for saving many lives!

More Info on Better Together Rescue!